3 Simple Tips For Creating a Minimalist Bedroom Shelf Display
AD – GIFTED
| Are you currently looking to redecorate your bedroom and need inspiration? Do you require ideas for a bedroom shelf display? Why not consider some new decorative accessories, posters, or prints for your home?
In our home, we all aspire to have those display shelves that look so effortless, clean, and minimalist, without being too cluttered and messy. Obviously, when you start to redecorate and use decorative accessories in your home, you'll often want to display personal items such as your favourite photographs, prints, ornaments, and books.
A simple way to update your bedroom's look is by interchanging your shelf displays to help add some character, some colour and a personal touch to your personal space.
With a wide range of options for objects to feature in your shelf display, whether you choose ornaments, books, posters, prints or sculptures, the possibilities are endless. If you're looking for some inspiration for selecting posters and prints, head over to the Poster Store – offering an endless choice of wall art at an affordable price.
Listed below are
3 simple tips for creating a minimalist bedroom shelf display in your home.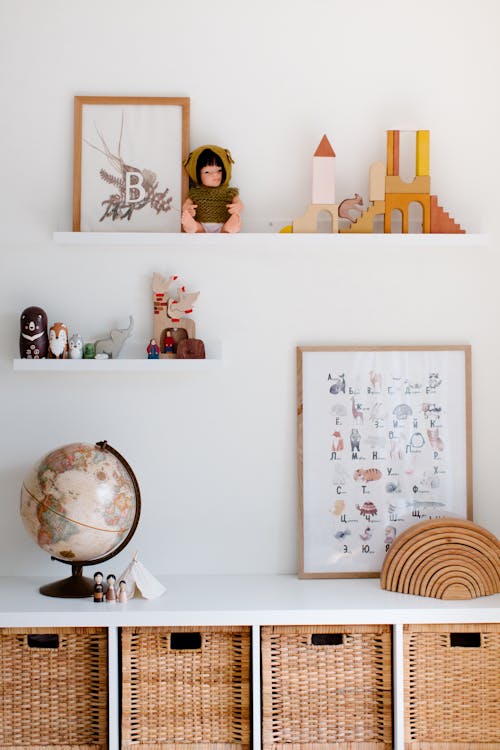 Choose A Colour Scheme
Incorporating too many colours into your shelf display can typically create a messy, distracted and overwhelming look to your room. This will ultimately create the opposite outcome of that you are looking for. I made sure to leave some "empty space", as this is necessary for achieving a minimal style display. Leaving some empty space on your display will make your shelves look bigger, cleaner, and tidier.
If you want to follow a minimalist style, you don't always need to choose a monochrome theme. Why not opt for something tonal, which uses similar colours to really make an impact.
Don't Overcrowd Your Space
When you begin to compile your shelf display, it's important to declutter and get rid of any unwanted items. It may take you a few attempts to get your perfect composition, and ultimately something you are completely happy with. Make sure to leave empty spaces, as these will be your best friend for helping you create something clean and minimal.
Opt For Different Object Sizes, Shapes, and Textures
Lastly, using items in your bedroom shelf display of different sizes, shapes, and textures can really change the whole vibe of your display. It will help add interest and to draw attention to your shelf display. Using big items will help create a statement, and be the stand-out part of your display, whilst smaller items can help fill spaces and bring the entire look together nicely.
For my own minimalist bedroom shelf display, I wanted to get creative and have a more summery vibe to my space. I made sure to keep things clean, minimal and neutral, to help keep things balanced and not go over the top.
The main colour scheme for this shelf display was warms neutral tones of creams, browns and oranges, which is perfect for the summer months, and something that is very calming and welcoming.
For me, I think
illustrations and abstract poster artwork
is the perfect choice for the home, as they are so minimal, so simple, yet so stylish. For my feature display shelves, I chose both the
Abstract Landscape Poster and the
Abstract Lemon Tree Poster. Both these posters feature warm tones of yellows, oranges, and browns that help bring a calming, summery feel to my personal space. I picked both posters in A3 size, as I wanted to make them a statement feature of my shelf display, in order to create a focal point to the shelves.
There are a variety of sizes for all posters, prints, and frames online, making it easier for you to be as creative as you want, depending on the space you have to fill in your home, as well as your budget. The collection of unique prints online will help you create your own gallery wall tailor-made for your home. All the posters are printed on sustainably produced high-quality paper, helping to minimise any damage to the environment.
For those looking to invest in some high quality, affordable posters and prints, make sure to check out the Poster Store and use the discount below to save some money on some beautiful wall art.
Use Code: 45LAURATHORNBERRY for 45% on all posters (except Selection Posters and frames) Not combinable with other discount campaigns. Valid
until the 24th of July!
Have you heard of the Poster Store? Are you looking to add some new wall art into your home?