10 Easy Ways to Upgrade and Update Your Bathroom on a Budget
AD| Looking for quick and easy, affordable bathroom decoration ideas? If the answer is yes, you may want to keep reading!
When it comes to updating, upgrading and renovating any room in your home on a budget, the most important thing to consider is to try and refresh whatever you can from it's current state to keep the costs down. There are a number of small, simple changes you can make to really change the whole vibe of your bathroom without breaking the bank. Whether that's change the colour of the walls, updating your bathroom tiles or filling your bathroom with beautiful decorative accessories, the possibilities are endless.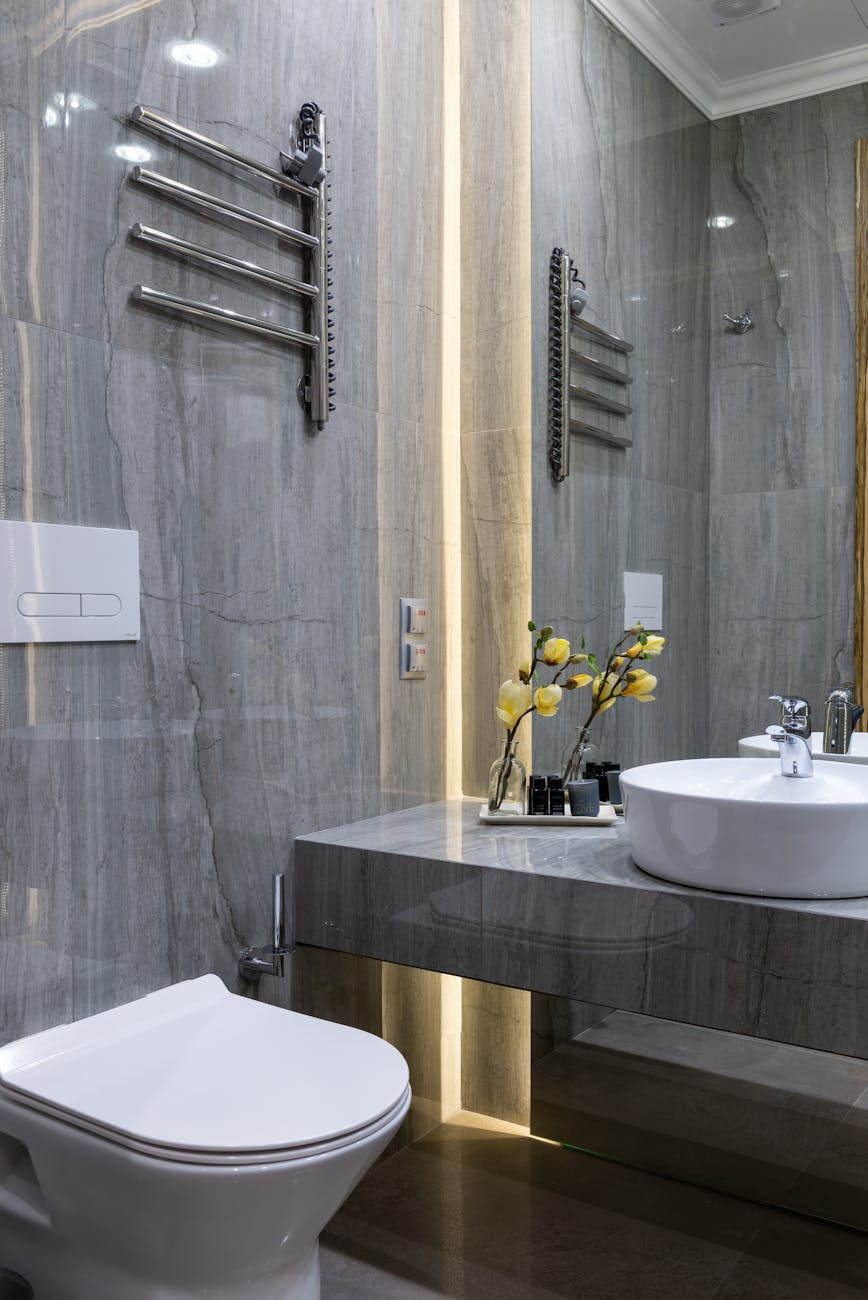 Splash of Paint
An easy change you can make is to instantly refresh and uplift your bathroom is by simply adding some paint to the walls. A simple colour change can completely transform a bathroom immediately. Before you get the paintbrushes out, it's important to consider the look you want to achieve and make sure it goes with your chosen colour theme and personal style. It's also important to make sure to buy the appropriate paint for your room, e.g. water resistant, heat resistant or mould resistant, depending on what you're painting.
Consider New Tiles
Changing your bathroom tiles is one way to really give your bathroom a complete makeover. Whether you opt for something more plain or opt for some decorative, patterned bathroom tiles, the design and colour you choose can completely change the atmosphere of your room. This can be a great addition for those looking to include a bold feature wall in their bathroom, and have the tiles as the main focal point of the room .If you aren't looking to retile your bathroom, you'd be extremely surprised with how much of a difference giving your current tiles a good scrub can make, and actually can help transform your bathroom space. This process could also include a refresh of the tile grout, a small subtle change that will make a huge difference.
If tiles aren't your cup of tea, you may wish to seek alternative flooring options.
If you're looking some something with a stylish, but unique feel, opting for a herringbone floor may be something to look into. It features a distinctive zigzag pattern that can help add some character to your rooms. It would definitely be popular choice for homeowners who want to add a touch of luxury, elegance and sophistication to their home.
Add Plants and Greenery
Another easy and affordable way to update your bathroom is to display a variety of house plants and greenery. If you're choosing a more minimalist theme for your bathroom, plants and greenery always help to inject a bit of life, contrast and colour into your room. If your bathroom has no windows or natural sunlight, opting for fake plants will be a better idea for you as they require less maintenance and will always look fresh all year round.
Lighting Ideas
Bathroom lighting can either make or break your room. Nowadays, you can easily find some modern and contemporary bathroom lighting ideas that will fit your budget and theme. When choosing your lighting style, soft natural lighting in bathrooms is always the best option as it helps give off a more spacious, airy feel and will help completely change the vibe of your room.
Soft Furnishings
Keep your bathroom looking fresh and clean by updating your soft furnishings, including items such as bath towels, face clothes, bath mats and rugs. Overtime, these products might just have been washed too many times, and have become discoloured, stained and damaged and will become extremely unsightly if kept out on display in your bathroom. Adding beautiful soft furnishing to your bathroom can help add colours, textures and improve the overall comfort of your space.
Adding Mirrors
The use of mirrors in any room
can make a big difference
. M
irrors can help add a so much space and light to a room you would be surprised.
Mirrors come in all shapes and sizes, and are widely available to suit any budget.
Artistic Prints and Photos
Hanging some art prints or compiling a gallery feature wall is one way to instantly revive a boring bathroom and give it a bold, eye-catching look. Before you hang up any new pieces, it's important to make sure you know how to protect your new artwork from any moisture, heat or damage whilst on display in your bathroom. Using prints and photos simply adds personal touch to your space and will be somewhere you look forward to spending time in.
Replace Your Shower Curtain
Shower curtains can visually take up quite a lot of space within your bathroom, so it's best to have one that's nice to look at. Throwing away that discoloured, stained and slightly mouldy shower curtain will be one of the best things you can do in order to refresh your bathroom space.
Clever Storage Solutions
Removing any exposed clutter from your bathroom surfaces and other areas of the room can instantly make a huge difference in the appearance of your bathroom space. Being clever with your storage can keep your bathroom looking neat and tidy any time of the day. Including features such as storage containers under your sink area, freestanding/wall-hung shelves, as well as bathroom drawers are affordable ways of keeping your essentials hidden away until you need to use them. You could even look into getting yourself a towel rail, accessory holders for toothbrushes/toothpastes and razors, and even a soap dish to help keep smaller items put away nicely.
Add Pops of Colour with Decorative Accessories
An inexpensive way of updating your bathroom is with accessories. Items such as soap dishes, storage jars, decorative sculptures, candles and reed diffusers could just be what you need to give your bathroom a simple refresh. These days you can find a whole variety of interesting pieces that could become staple accessories in your bathroom. Make sure to check out your local shops home sections to see what takes your fancy!
Are you planning a bathroom refresh? What other ways can you completely change the look of your space?