3 Reasons You Need To Use Eyelash Serum In Your Beauty Routine Today
AD| Do you wear mascara and eye makeup on a daily basis? Are your lashes in need of some TLC? Have you tried lash serum? Are they worth the hype?
For those looking to help restore and revitalise their lashes after daily eye make up use, eyelash serum could be your best friend. A lash serum can help transform your lashes from 0 to 100 in just a matter of weeks, with very little effort required.
Using mascara and eye makeup on a daily basis can weaken your lashes, and leave them feeling brittle. Mascara in particular can be incredibly drying, and have both a weakening, damaging effect on your lashes. Over time, this can lead to lash breakages and dry eyes, which is a definite no-no for those wanting that full and fluttery, natural eyelash look.
Applying a lash serum is super easy and considered to be a super low-maintenance beauty hack, that anyone can do, as it requires minimal effort, and can be applied within seconds. To begin, just cleanse your eyes/skin from any remaining makeup, apply the serum along the lash line and leave to dry. Easy or what? If you're still not convinced, here are 3
reasons you need to use eyelash serum in your beauty routine today.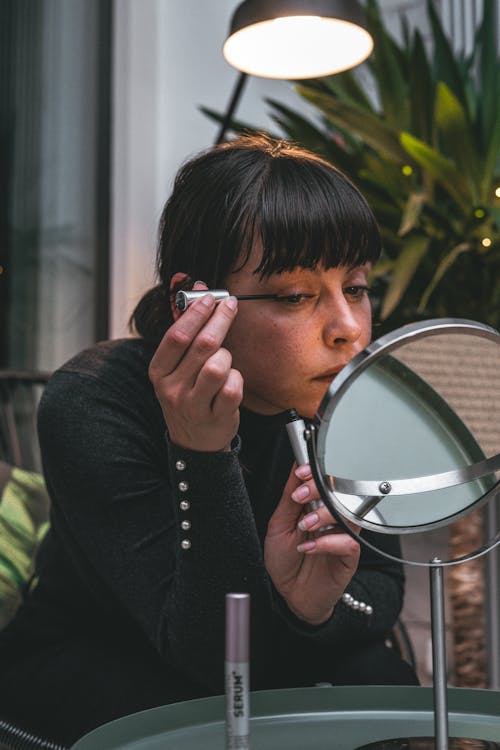 — strengthen and conditions the lashes -
Eyelash serums help to condition the eyelashes by nourishing it with vitamins and nutrients, which helps to keep the eyelashes from thinning and breaking. This is necessary for keeping your eyelashes looking full and in good condition. Many lash serums are formulated with ingredients containing oils and proteins, which are essential for repairing damaged lashes. Lash serums nourish and condition your lashes overnight, allowing you to wake up with soft, moisturised and glossy lashes.

— improving the overall health of the lashes -
Over time, constant use of mascara, eyelash dye and other eye makeup products can cause your natural lashes to dry out and cause premature breakage and fallout.
By using a lash serum on a regular basis, you would be able to restore moisture to the lashes, preventing breakage and allowing your eyelashes to grow to their full potential, ultimately
improving lash health, appearance, and length over time.
They also ensure that your lash follicles are in healthy shape and are functioning perfectly. As well as this, most lash serums contain natural ingredients, which will stop any eye irritation, making them suitable for everyone to use.

— provides vitamins and nutrients -
Lash serums are designed to work by nourishing and boosting your eyelashes, using a variety of nourishing ingredients, such as Biotin, Keratin, and healthy peptides. This combination of ingredients are used as part of the serum to saturate your eyelashes from root to tip with natural proteins. These vitamins and nutrients can help promote lash growth, by allowing your lashes to grow fuller by stimulating your lash follicles to produce new lashes from the root.
Have you tried using lash serums? How do you keep your lashes healthy?