6 Must-See Greek Islands To Add To Your Travel Bucket List ASAP
AD| Let's be completely honest, there's probably a million reasons why you should be thinking about travelling to Greece, especially in the summer months, as there is just so much to see and do here. With around 6,000 islands located in both the Aegean and Ionian Seas, with over 200 of these inhabited, you'll be spoilt for choice when deciding where to go for your next getaway.
Whether you opt for a holiday to the mainland or to one of the islands, Greece simply has it all, from stunning beaches, mouth-watering cuisine to spectacular scenery. Not to mention the warm Mediterranean climate and the abundance of culture and history, it's definitely a holiday destination worth thinking about as
the country has so much to offer visitors.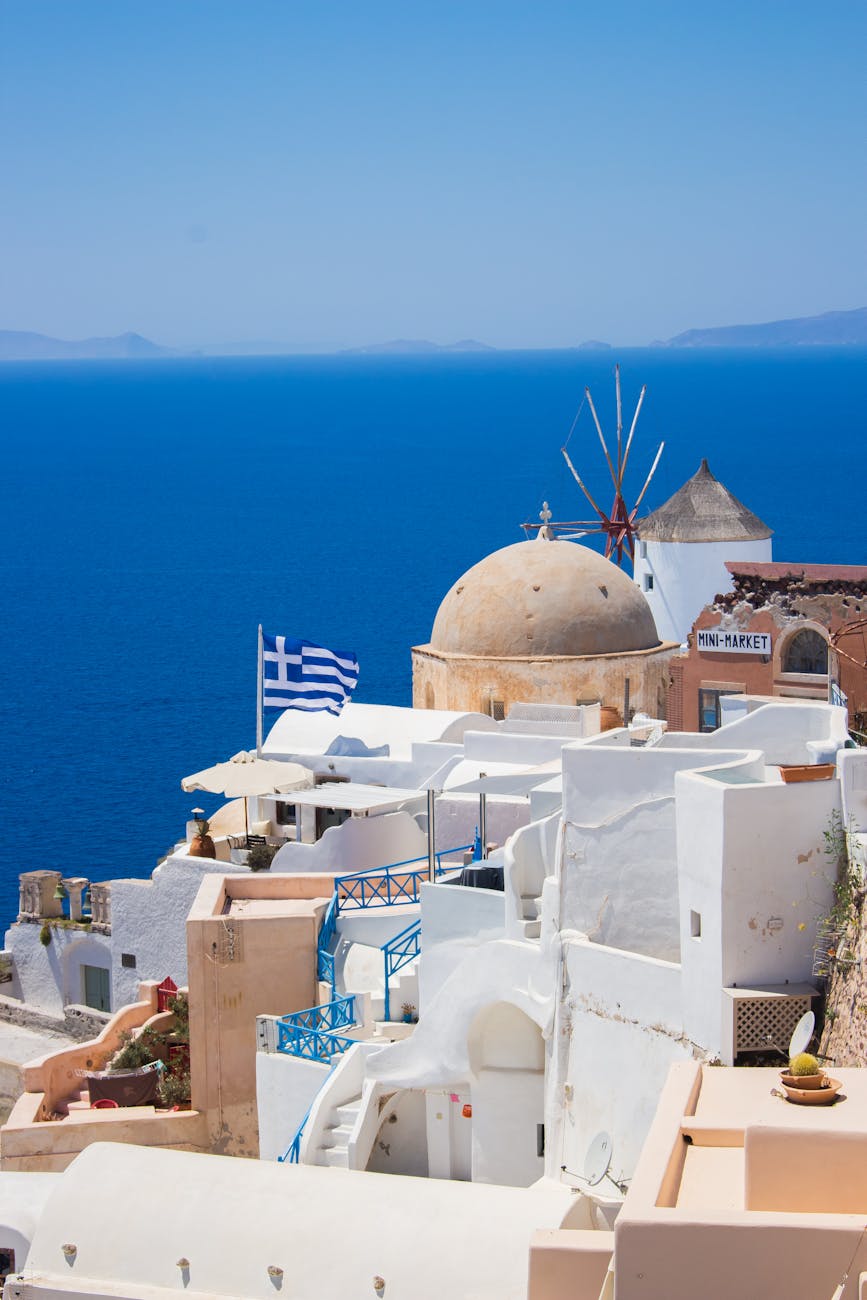 Santorini
Santorini is probably one of the most iconic Greek islands and a location that is instantly recognisable.
Santorini is known for it's 5-star luxury hotels, spectacular restaurants, and high-end shopping, making it a great destination for a romantic getaway.
The best, most popular places to stay on the island include Fira, Imerovigli, Firostefani and Oia, as these
offer some of the the best views of the volcano, the caldera and of course the stunning sunsets.
If you want to truly discover the island without paying expensive fares for each taxi ride, or taking a trip on the local buses, maybe you should consider renting a car whilst in Santorini. The idea of r
enting a motorbike or a four-wheeler sounds fun, but are typically not the safest way to drive around a busy island like Santorini. On the other hand car hire will offer the flexibility and freedom to enjoy the islands beauties.
Corfu
Corfu is known as Greece's emerald island as it is one of the greenest islands in Greece,
with the vast combination of olive and cypress trees making up the landscape.
Corfu homes some of the most beautiful beaches in Greece, featuring such crystal clear waters, pebbled beach fronts and
golden sands, it's definitely one not to miss out on.
This island is probably one of the best to explore if you are looking for a family holiday. Corfu's famous Aqualand water park is a great family day out and will give you hours of fun and excitement, and the Corfu Aquarium is also a great spot
for those with children.
Mykonos
For those seeking amazing nightlife with a vivid party scene, Mykonos might just be the perfect island for you.
Mykonos
island is part of the Cyclades, and
is basically Greece's answer to to the famous party island of Ibiza. Y
ou can enjoy the cosmopolitan nightlife with a huge selection of restaurants, bars and clubs to go to located all across the island.
But Mykonos isn't just about great parties, this island offers much much more. Visiting Mykonos offers a well-rounded travel experience; there are an enormous range of activities for everyone. With a range of museums, churches and windmills, and over 20 gorgeous beaches
to visit, there are plenty of sights to
keep you busy during your stay on the island.
Crete
Located in the Aegean Sea, Crete is the largest of all the Greek islands, and is also the fifth largest island in the Mediterranean, homing over 600 miles of coastline full of beautiful beaches, cliffs, mountains and hilltops, it's one of the most beautiful landscapes you'll ever encounter. This island is an ideal getaway for couple, friend or family style holidays as there is so many things to see and do here, you'll be spoilt for choice everyday!
Crete also has two major airports; Chania and Heraklion, making it easily accessible from many European cities, making it a perfect holiday destination to travel to. I was lucky enough to visit Crete a few years ago, spending my holiday in the town of Hersonissos, located in the north of the island. It's one of the most modern places on the island, with an array of restaurants, bars and clubs, similar to those found in the neighbouring town of Malia. With golden sandy beaches, crystal clear waters, amazing food and Instagram-worthy sunsets, it's a must visit place for everyone.
Rhodes
Rhodes is the largest island in the Greek Dodecanese, the fourth largest Greek island and is known to be the sunniest place in Greece! Not only does the island have the perfect climate, the island is extremely rich in history as it is the oldest inhabited medieval towns in Europe. If you're a lover of Greek history, then a trip into Rhodes Old Town is a must!
Rhodes boasts such a variety of picture-perfect, breath-taking scenery, from ancient towns and picturesque villages to amazing beaches and natural landscapes. As for the beaches on the island, they are some of the best beaches in Greece, especially those located at Lindos and Faliraki!
Zakynthos
Located in the Ionian Sea, Zakynthos is
a well-known summer resort that
offers plenty of activities for all ages, making it an ideal location for families, couples or groups. Whether you're into water sports, hiking and visiting museums, or taking day trip excursions like boat parties and turtle spotting, Zakynthos has it all.
The iconic, world famous Navagio Shipwreck Beach lies on the island of Zakynthos. This locations is tucked away in a small cove in the north of the island, boasting a beautiful beach and crystal clear waters, it's probably one of the most recognised, photographed and most
famous beach in Greece and can only be accessed via boat. It's definitely
something not to be missed when visiting Zakynthos.
Have you visited Greece before? Which islands are you looking to go to?