5 Last Minute Low Cost Gift Wrap Ideas for Christmas Presents
Completed all your last minute Christmas shopping? Need some inspiration for low-cost gift wrap ideas? Look no further!
Christmas present shopping is expensive enough - t
here is simply no need to spend a lot of money on your gift wrap ideas either as there is so many low-cost and affordable options out there - you just need to be imaginative and creative. Most wrapping papers will get binned or recycled as soon as the Christmas gifts are exchanged and opened, so realistically, you don't want to be spending loads of money on fancy wrapping paper, gift bags or decorative accessories. Let's take a look at 5 last minute, low cost gift wrap ideas for Christmas presents that will look amazing and won't break the bank!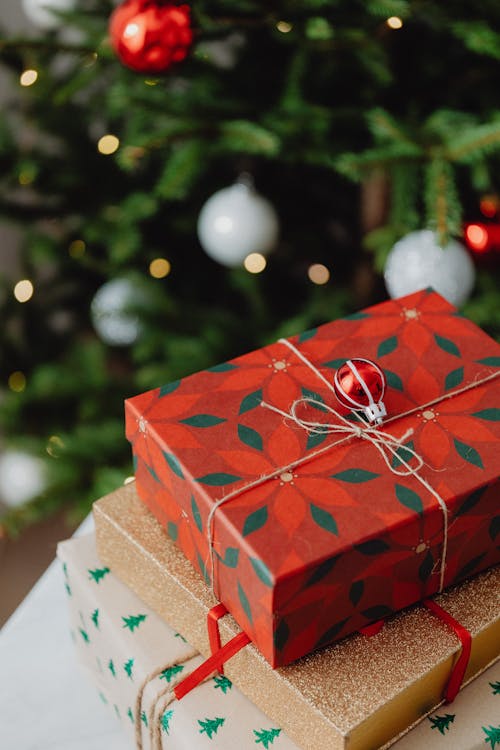 1. Gift Bags
Gift bags are the ultimate lazy option when it comes to wrapping presents, but they can also be extremely affordable. They are also the perfect choice of gift wrap for larger items, or items with irregular shapes that may be difficult to wrap in wrapping paper. Using gift bags is also extremely useful when you are carrying/transporting your gifts. Whether you're going to a friend or relatives house, or they are coming to you, the recipient of the gift has a pre-made bag to take their present home in. Reusing and recycling your gift bags is good for the environment and a sustainable way of gift wrapping your gifts.
2. Brown Paper and String
Brown paper is a very simple, affordable, and environmentally friendly alternative to the traditional-styled wrapping paper. You can pick up rolls of brown paper very cheaply from a number of shops and supermarkets, making it a great substitute that is widely available for purchase. It's also a great choice for those would want to be more eco-friendly, as brown paper is recyclable and reusable. Once your gifts are wrapped, brown paper tied up with string is such a simple, cute and effective way to decorative your loved ones gifts. This low-cost gift wrap idea is very traditional, can make your gift stand out, and makes it look like you took a long time to wrap your gifts - when it reality, it didn't!
3. Ribbons and Bows
To add some extra decoration, extra sparkle and to give your wrapped presents that extra little something special, using ribbons and bows can take your gifts from 0 to 100 in no time at all! A nice ribbon or bow simply adds a nice touch to a finished package. It also can help you when attaching a gift tag or card to your Christmas gift, which helps you remember who's gift is who's.
4. Decorative Christmas Accessories
For those who really want to make their Christmas gifts stand out and look spectacular, adding some decorative Christmas accessories is the way to go. If you've decorated your gifts with ribbon or string, this will be an easy way to incorporate some additional decorative accessories to your gift. I'm thinking candy canes, pine cones, fake plants and greenery, and even some small wooden ornaments.
5. Homemade Wrapping Paper
For those of you who like to be creative, have artistic talents, or even have a little spare time on your hands, making your own homemade Christmas wrapping paper is a great way to make your gifts more personalised and more special. This would also be a great festive activity for those with young children in the house at Christmas time. All you need is a few rolls of paper and some arts/crafts materials, and you're good to go!
Some of my favourite homemade wrapping paper design ideas include;
- Using stencils and stamps
- Painting on Christmas shapes and patterns
- Calligraphy and Typography designs
These affordable, simple and easy Christmas gift wrapping ideas will help you save money on gift wrap, and you will be wow-ing all your friends and family members with your creative and imaginative designs.
How do you wrap your Christmas presents? What low cost gift wrap ideas do you have?