Sustainable, Comfortable and Sexy Lounge Underwear Lingerie Guide for Valentine's Day
With Valentine's Day only a short time away, it's time to treat and i
nvest in yourself by choosing some gorgeous, luxury lingerie pieces. Whether it's a single girl's night in, or you're in a happy, healthy relationship, selecting new lingerie can be extremely confidence-boosting, empowering and sexy – especially if your current underwear collection isn't too great.
Nowadays, there are so many brands out there who offer a whole range of stunning lingerie sets in a variety of styles and at affordable prices. Valentine's Day is a great opportunity to take the plunge and freshen up your lingerie collection, by adding some new styles or colours to your collection. You can never, ever, go wrong with a matching set. One of my favourite places online to get my hands on something new is Lounge Underwear. Not only do they have a great size range available, but they have a number of incredible designs, in a wide variety of vibrant colours – it's incredibly hard to not buy everything from the website!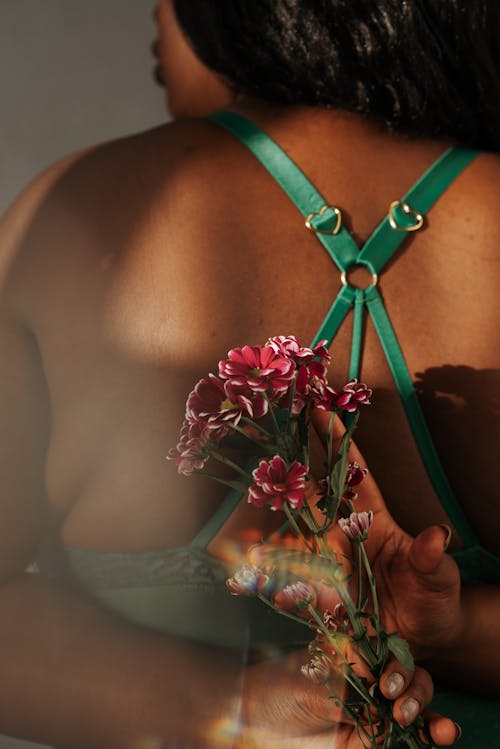 When it comes to Valentine's Day, the first colour that comes to mind is red. Red is typically associated with love and romance, making it a great colour option for new lingerie. Red is a great option for all skin tones, and will make an incredibly bold, yet sexy addition to your collection. A new style from Lounge includes the Sustainable Liberty Balcony Bra & Thong Set in Red. Red lace is just absolutely stunning, and, the d
ainty rose gold 'L' charm detail just adds that extra little sparkle.
If red isn't your colour, then black lingerie is definitely a universal lingerie collection staple. Black is such a powerful option when it comes to lingerie sets, it's undoubtedly a confidence boosting colour, whatever your size or shape. It evokes a feeling of authority, elegance with some added sexiness. What's not to love? I opted for a new style from the website, and chose the

Sustainable Vogue Balcony Bra & Thong Set in Black – featur
ing s
ilver Lounge engraved hardware for that added sparkle, and a
Soft stretch lace with Lounge jacquard mesh for added fine detail.
The next few lingerie sets I have selected are going to add some bold colour and vibrancy into your underwear collection, you will really be spoilt for choice here. First things first, cobalt blue – literally one of the most stunning colours I have seen in a long time.

Sustainable Liberty Balcony Bra & Thong Set in Cobalt Blue. This set features some intricate f
loral stretch lace with scalloped edges, again, finished off with the r
ose gold Lounge engraved hardware and 'L' charms
will definitely help you make a statement with your underwear choices.
My second super colourful addition to my Valentine's lingerie guide is green – a colour that will absolutely suit all skin tones, even from the very pale tones to the deep, rich tones. It's bound to be a winner with everyone, and that's why I had to add the
Sustainable Vogue Balcony Bra & Briefs Set in Emerald to my basket. Lounge never miss out any details with their lingerie sets. The d
ouble Lounge branded banners adds quite a simple, sporty element to this lingerie set, but the lace really elevates it, to make it something really special.
Finally, something a little different, but still incredibly beautiful. Purple lingerie is very hard to come by in my opinion, but again, it's a very bold, feminine colour. When you mix both silk and lace within one lingerie set, it just gives off such sophisticated, classy and elegant vibes and that's exactly what you get with the
Sustainable Silk Balcony Bra & Briefs Set in Purple. The intricate floral detailing on the lace panels of the underwired bra and briefs is super cute and girly, and will just make you feel incredible once you've put it on. The r
ose gold Lounge engraved hardware and 'L' charms really complement the purple shade, and give it that extra little something.