5 Spring Skincare Tips and Product Recommendations for Healthy Skin
AD – GIFTED| Has the cold, winter weather left you wanting to tackle your dry skin or beat your acne and breakouts? Are you looking to upgrade your skincare this springtime?
If you're looking for some healthy skin tips to add into your spring skincare routine, look no further. Winter weather can leave your skin looking worse for wear, and the switch up in seasons, means a switch up in your skincare. Spring is the perfect time of year to achieve healthy, glowing skin, by simply exfoliating, hydrating and brightening the dull skin that has accumulated during the cold winter. If you don't know where to start, here are 5 spring skincare tips and product recommendations for healthy skin.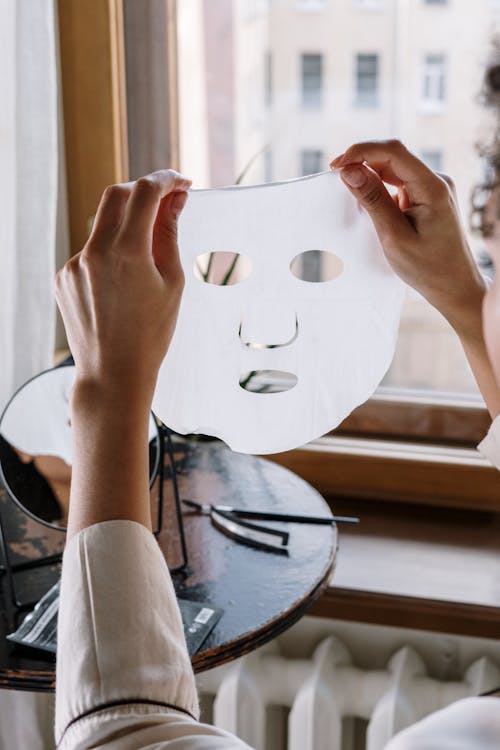 Exfoliate
The first step on the path to glowing skin starts with exfoliating away the lingering layer of winter. Exfoliation is a simple process that involves removing
the top layer of skin, where
the dull, dead skin cells are. The benefits of a weekly exfoliation can be seen from the very first time, with help to
create a radiant, glowing complexion, unclog pores and draws out impurities, and help to create a smoother, plumper texture all round. One product that I've been using for a while is the L'Oréal Cocoa Sugar Scrub. This face and lip scrub contains 3 fine sugars; White sugar that melts on the skin while gently buffing away impurities and dead skin cells. blonde sugar, which is a natural moisturiser, and brown sugar, which is rich in minerals that help strengthen the skin's barrier.
As well as this, I have also been using a weekly exfoliating face mask to help give my skin a healthy glow and improve the texture. The REN Glycol Lactic Radiance Renewal Mask has been incredibly useful to help e
xfoliate, brighten and soften my skin. The product helps to remove any oils, dirt and impurities, to leave the skin feeling refreshed and revitalised. A blend of glycolic acid, pineapple extract and papain enzyme aim to refine the complexion for a smooth finish.
Cleansing
Washing your face regularly, both day and night, is an important step to help maintain healthy-looking, glowing skin. Facial cleansers and washes play a vital, significant role in our skincare routines, and it's always essential to select the right cleanser suitable for your skin type.
They are
designed to gently removes any oils, sweat, dirt, impurities, and makeup that can irritate the skin, potentially causing blemishes, rashes, and other skin issues.
One product I've incorporated into my current skincare routine is the
Obagi-C C-Cleansing Gel. This skincare product is perfect for those looking for a facial cleanser to help give them the fresh, radiant, natural glow. This cleansing gel helps to remove dirt, makeup and any dead skin cells, in order to help refresh, rejuvenate and brighten the skin. The product formulation is light and gentle on the skin, and leaves your skin feeling clean and fresh, without any sticky residue after use.
Toning
Using a toner on my skin is something that I have only recently started to use again. It's typically a step I always forget in my skincare, but when I actually remember, it's something I continue with daily. Toners are typically packed with skin-loving ingredients such as acids, antioxidants, glycerin, and other anti-inflammatory ingredients, that can help to penetrate your skin to give it a quick fix of hydration and sweeps away any remaining dirt and dead skin cells. Facial toners can manage the appearance of your pores, restores your skin's natural pH levels and can help with certain skin problems you may be facing.
The current facial toner in my skincare collection is the REN Clean Skincare Ready Steady Glow Daily AHA Tonic. This product features a blend of AHA's and BHAs, the gentle but powerful formula helps to resurface and exfoliate. This toner has been a saviour to help banish my winter skin, as after use, I am left with skin looking bright and energised.
Sun Care
Springtime brings the start of the warmer, sunnier weather, so incorporating sun care products into your skincare is a must. UVA and UVB filters can affect your skin from direct sunlight, but also through glass and clouds too. Spending too much time in direct contact with the sun's rays, can be extremely damaging for the skin, and can lead to skin concerns such as skin cancer, discolouration, and wrinkles over time.
I'm currently applying SkinCeuticals Oil Shield UV Defence Sunscreen SPF50 before sun exposure, to ensure my skin is protected from any harmful rays. This lightweight SPF offers a dry-touch formula that is residue-free, leaving your skin feeling fresh and matte, without any oils. The product formula c
ombines mineral and chemical filters for double protection.
Hydrate
Healthy skin means hydrated skin. With the change in weather, you're more than likely going to put away your heavy, thick creams, and opt for a more lightweight moisturiser. As part of your change in your skin care routine, choose a lighter moisturiser to keep your skin healthy and hydrated without weighing it down. These work better for the skin as they won't clog up your pores and leave your skin feeling congested.
My current go-to moisturiser is The INKEY List vitamin B, C and E Moisturiser. This moisturiser is incredibly lightweight, and absorbs into the skin within seconds, leaving your skin looking healthy and fresh. This product is enriched with essential vitamins that can help boost healthy-looking skin, including clarifying B3 (Niacinamide) to help balance oil, brightening antioxidant vitamin C, and soothing vitamin E.
What products are you using this spring? What are your recommendations for healthy skin?