4 Ways Incorporating Art In Your Home Office Can Boost Productivity
AD | Are you always feeling like you're not being productive whilst working from home? Does your home office environment make you feel unmotivated, uninspired, and lazy? Why not consider using artwork to decorate your space, and make it feel more inviting.
If you're someone who is currently working from home, or you are planning to in the future, being able to decorate your home office workstation in any way you want can really help the way you work. Whether you choose the artwork for your walls or your desk, ultimately you have the choice to incorporate pieces to suit your own personality and cater to what makes you feel more productive and focused whilst working. Whether that be bright colours, textures or plants, these can all help you work more efficiently and productively, and are things that you wouldn't normally find in a traditional office setting.
In order to boost your productivity levels whilst working from home, the overall vibe and aesthetic of your office can impact both your mood and your motivation.
If you work from home or own your own creative space, you probably have more flexibility to incorporate art that inspires you.
Unlike working in a plain, boring office setting, having total creative control over
setting up your home office
in your own personal surroundings can help you produce better quality, more efficient work.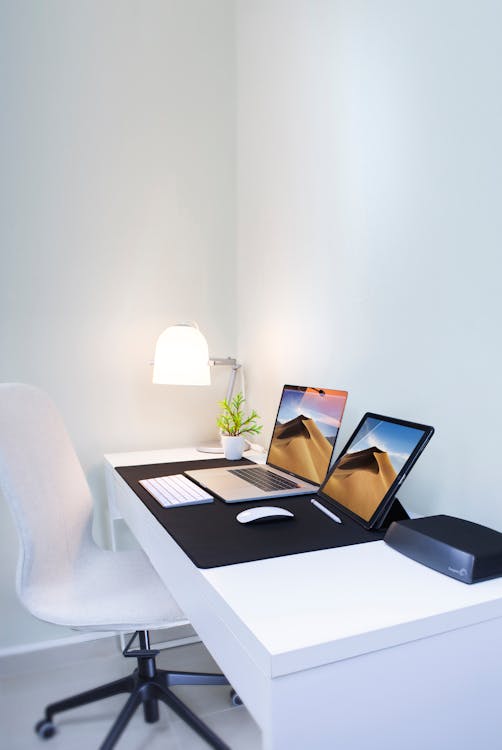 One way you can achieve improved results whilst working from home is to include some artwork in your office environment to boost your productivity levels, help you be more creative, and just help create a welcoming atmosphere. Whether you create your own artwork, you buy art online, or you pick up some inspirational pieces from the shops, they can all have a positive impact on your working environment. Listed below are some
ways incorporating art in your home office can boost productivity.
Staring at your computer screen all day can cause eye strain, headaches, and can impact the quality of your work when you start feeling tired. Having good reasons to look away from your screen for a few moments can help you to re-focus your thinking, as well as reducing fatigue, headaches, and the effects of eye-strain.
Regularly changing the art works you place upon your walls or have displayed in your office will encourage you to have a rest from your computer screen, and give you a short time away from your work.
Hanging posters and paintings of simple peaceful settings in the office will make workers feel more welcomed, more content and create an overall general sense of calm.
Some of my favourite categories to choose art from include
original landscape paintings, colourful abstract pieces and simple nature, floral or botanical images.
It Stimulates Creativity
Having art around you can inspire creativity and boost your thinking.
Inspiring and eye-catching artwork creates focal talking points, stimulates healthy discussion and encourages innovative thinking from those viewing it. If you're on the lookout for some creative artwork pieces, why not consider selecting pieces filled with vibrant colours and bold patterns to inject some character and life into your home office.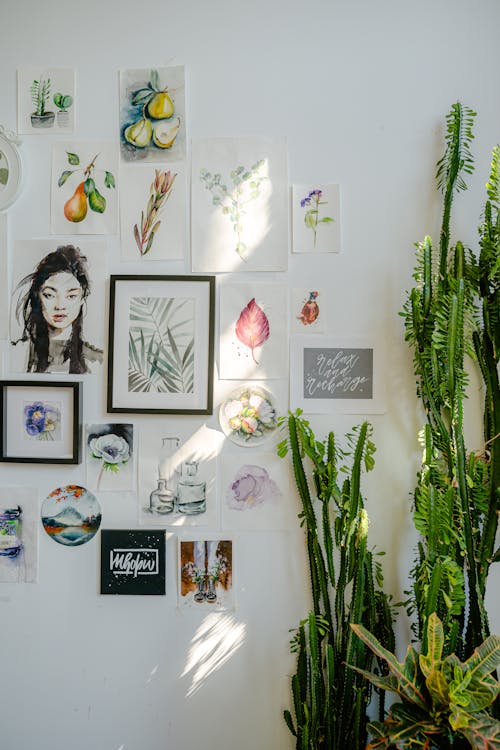 Can Help You To De-stress
Art inspiration in the work environment can actually help reduce stress levels. Many individuals who work from home may feel overworked, stressed and even like they aren't performing to the best of their abilities. However, displaying artwork that inspires you can help improve your overall wellbeing, and make you feel less stressed, and much happier whilst tackling your workload. As well as artwork, surrounding yourself with colourful flowers, plants, and greenery is a well-known way of reducing stress levels and increasing productivity whilst working.
Boosts Positive Emotions
Having vibrant artwork displayed in your home office can boost your own positive emotions, allowing you to figure out better ideas, focus on tasks, and concentrate better. When you're surrounded by a positive atmosphere, you're more likely to work better and will be more motivated to complete all your tasks assigned for that day, without feeling like procrastinating all day long.
Are you currently working from home? Do you use artwork to help boost your productivity levels?