7 Creative, Low-Cost Ways You Can Personalise Your Wedding Day
AD – GIFTED| The thought of getting married is considered to be one of the "best days of your life", but it can also be one of the most expensive times too. Saving enough money for your wedding day can take months, even, years to finally have the financial stability to fund your big day. But every
thing you want for your wedding doesn't have to be extremely expensive, as there are many more affordable options for those on a lower or tighter budget.
Many people opt for more affordable, low-cost ways when planning their weddings for options such as decorations, food and drink, flowers and photo booths. This allows you to be more creative, more money-conscious, and can really help you decide on exactly what you want, whilst

helping to cut the costs of your dream wedding

. Listed below are
7 creative, low-cost ways you can personalize your wedding day, and make it one to remember.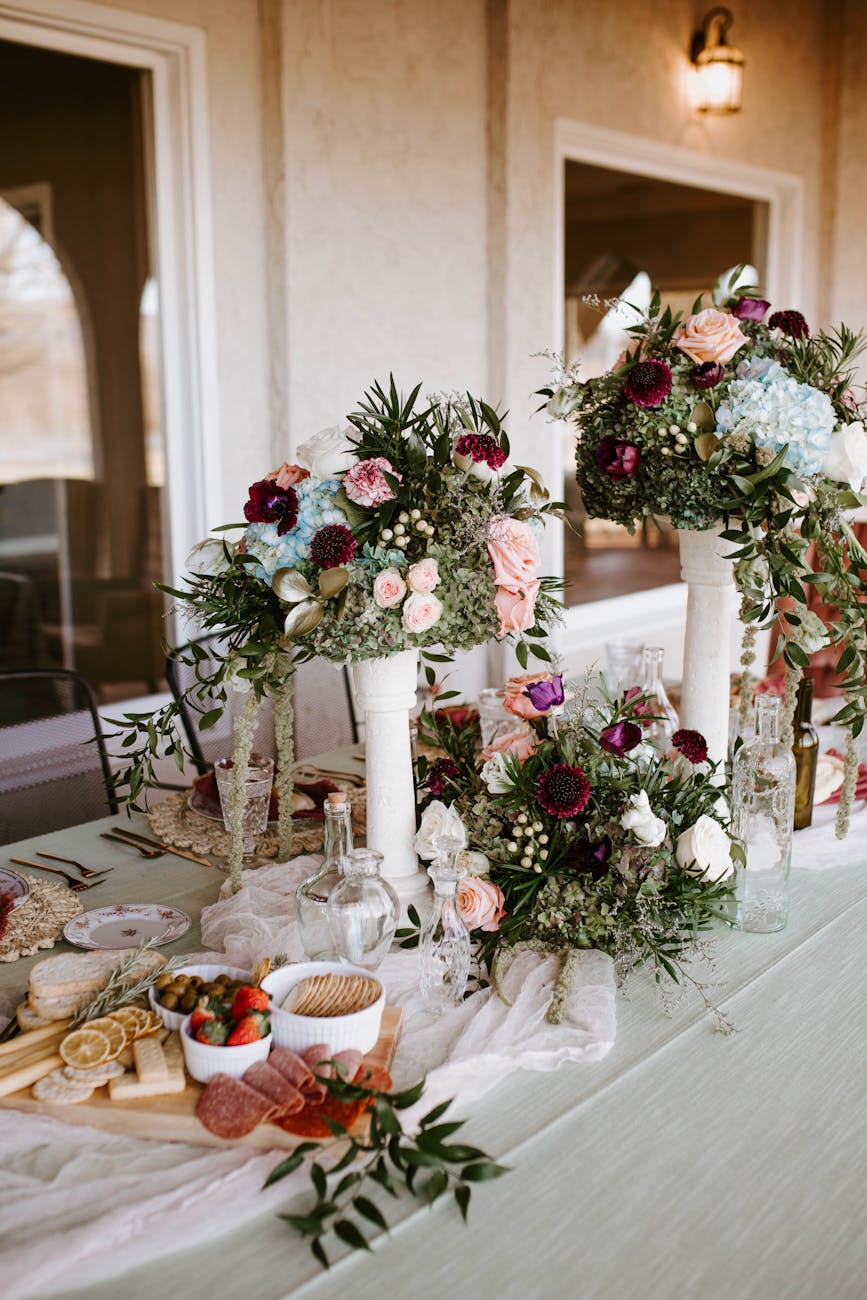 Send Personalised Save the Date Cards
When it comes to weddings, there's an awful lot of planning to do, but one aspect of this that may actually be the most exciting and creative part – designing your own Save the Date invitation cards. Sending these out to your friends and family
to formally announce
that you've finally set a date for your big day is extremely exciting. It can also give your guests something to look forwards to and ensure they have enough time to plan their outfits, get the time off from work etc.
Creating your own personalised wedding Save the Date Cards allows you to have complete control of the design, by letting you to fully personalize your invitations by choosing your own colour theme, layout, and fonts etc.
If you're looking to get some inspiration, Aura Print offer a number of printing options for those looking for creative ways to personalise their wedding day. The website offers a wide selection of designs for products such as Save the Date cards, invitations, RSVP cards, as well as wedding sample packs to help you get select which options you like the best and get organised for the big day ahead. Aura Print offers a fast turnaround for deliveries, which is perfect for those who have either forgotten to order something, or those who are extremely last-minute and in a rush. As well as this, the quality of the products you will receive are 10/10. So professional and luxury, without the heavy price tag.
Create DIY Wedding Centrepieces/Name Cards for Tables
Something that might be forgotten when it comes to decorating your wedding venue is table decorations. DIY Wedding decorations can help you save time and save money – you just need to be creative. Table decor ideas such as filling old jars with candles, flowers, rocks, marbles etc, is a simple and effective way to put a finishing touch on your wedding guests tables. You
can also design your own name cards and seating plans for your guests, by selecting matching colours, fonts, and designs, that co-ordinate with your decor theme.
Make Your Own Wedding Favours
The traditional idea of distributing small wedding favours to your wedding guests is hundreds of years old, and many couples still
make something special to help guests remember your wedding day and why you got married
. Putting together your own wedding favours can be a quick and easy task, which can save you money, as well as allowing you to
give a small gift as a gesture of appreciation to those who attended. Things such as chocolates and sweets, homemade
baked items, thank you notes, wooden plaques and name tags, are all great examples of low-cost wedding favours.
Have Your Guests Create the Music Playlist
Hiring a DJ for your wedding can be extremely expensive, and it can be a hard task to track someone down who plays your favourite styles of music. Why not consider allowing your family and guests to pick songs for your wedding playlist?
You can simply ask your guests to submit their song requests to a group playlist. Once all the music has then been added, you will end up with a wide selection of music for your wedding day, and you know that all your guests will enjoy what's being played.
Use Fake Flowers for Bouquets
By opting for fake flowers, not only do they last much longer than fresh flowers and are a much more affordable way to create your floral bouquets, but you can probably find them in any colour that you want. You can personally pick exactly what types of flower you like, e.g., roses, tulips, lilies, and as they are fake, you can pick any colour to match your wedding theme and decor. Another benefit of using fake flowers is that they are unlikely to get damaged during transportation to your wedding venue, meaning you can buy them early and store them easily, without any problems. You can also make small bouquets for table decor using fake flowers to add some colour and vibrancy to your guests tables.
Decorate The Wedding Venue Yourself
Instead of looking at hiring an interior decorator for your wedding venue, you can opt for being creative and decorating the venue yourself, with help from friends and family, in a way that suits your personal tastes. This allows you to have 100% creativity as you can decorate however you like – with items such as balloons, lights, signs, banners, photographs etc.
Make Your Own Fun Photo Booth with Props
Finally, no wedding is complete without a photo booth – but these can be costly. Why not set up your own photo booth in a corner of the venue, so yourself and your guests can take photographs to remember your big day. You can simply grab a digital camera or a smartphone and place on a tripod. Make sure to create an area in your venue with a simple backdrop or create your own flower wall.
To add a fun factor to this, you can put together a collection of props to use, that you may have in your home. Opt for items that might be fun to use – e.g., coloured sunglasses, fancy dress accessories, hats, inflatables, or you can buy things cheaply in pound shops or discount stores.
Are you getting married soon? What other creative ways can you personalise your wedding day?