5 Reasons To Visit Santorini, Greece This Summer
AD| Starting to plan your summer holidays, but not sure where to travel to? Why not consider visiting Santorini, Greece.
One of Europe's most popular tourist destinations, Greece. This country is home to some of the most beautiful islands in the world - Zakynthos, Mykonos and Santorini, to name a few.
Santorini is probably one of the most
instantly recognisable and
iconic Greek islands out there.
It's well known for its 5-star offerings, including luxury hotels, spectacular restaurants, high-end shopping, picturesque scenery, and delicious food, making it a great destination for a romantic getaway or a holiday to remember. If you're in need of some European holiday inspiration, here are
5 reasons to visit Santorini, Greece this summer.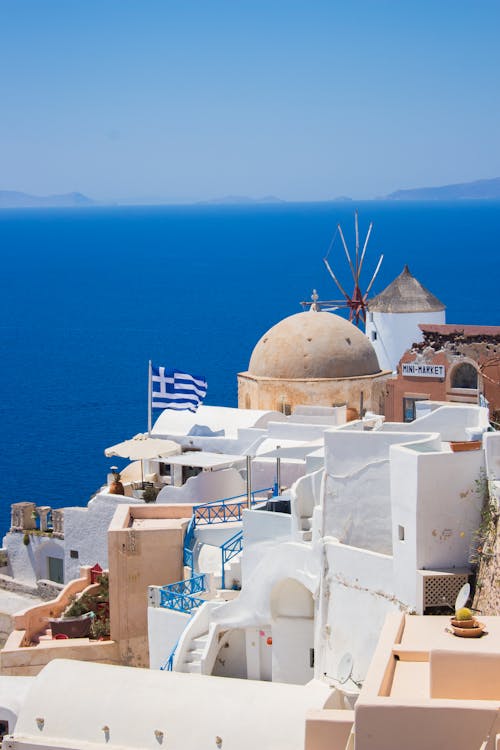 If you truly
want to
discover the islands' beauty, without paying expensive fares for each taxi ride, or local bus trip, you should consider renting a car in Santorini. There are plenty of car hire companies in Santorini to choose from, so always research ahead to ensure you get the best deals.
Santorini is a relatively small Greek island, and d
riving from one side of the island to the other takes around 40 minutes. Having your own rental car whilst on the island can make your trip extremely
easy and convenient, as you are in total control of places you visit and things you do.
By having your own rental car, you can explore the island in the best possible way without worrying about public transport timings.
Luxury Hotels
The island of Santorini boasts some of the very best hotels in Greece.
It's always a good idea to pre-book accommodation when visiting Santorini.
Some of the most popular places to stay on the island of Santorini include Fira, Oia, Imerovigli, and Firostefani. These towns are located along the caldera cliff on the western side of the island, boasting views of the famous volcano and caldera. Many hotels and apartments across the island of Santorini have simply stunning views of the Aegean Sea and if you're lucky enough, you could even find yourself booking a room with an infinity pool!
Architecture and Landscape
Santorini is incredibly photogenic, and wherever you are on the island, the views are just breathtaking. The most recognisable being the
blue domes and white-painted cave houses, which is the iconic image of Santorini. As well as these, the volcanic island of Santorini is home to some of the world's unique beaches, featuring volcanic rocks and sand, making it completely distinctive to travellers from all around the world.
Sensational Sunsets
One thing that Santorini is famous for is the spectacular sunsets you can view from all over the island. Your trip to the island of Santorini won't be complete until you physically witness the beautiful sunset. The town of Oia is known as the perfect location to witness the island's infamous sunset.
Amazing, Fresh Greek Food
If you're a big foodie or like trying new cuisines, you'll love what Santorini, has to offer, for sure!
You will find so many restaurants on the island, where you can try out a whole range of delicious Greek food.
Here are just a few suggestions of the best foods to try while you are in Santorini;
— Saganaki;
a simple Greek recipe of pan-seared cheese.
—
Tomato Keftedes;
fried tomato balls, with a
combination of ripe tomatoes, fresh herbs, and feta cheese, typically
served as an appetiser.
— Fava;
probably the most famous and iconic traditional dish in Santorini. Another
simple and healthy Greek dip appetiser consisting of yellow split peas, cooked with onions, garlic, and herbs.
Have you visited Santorini before?